Looking Back at a Phenomenal 2022 | Premagic Wrapped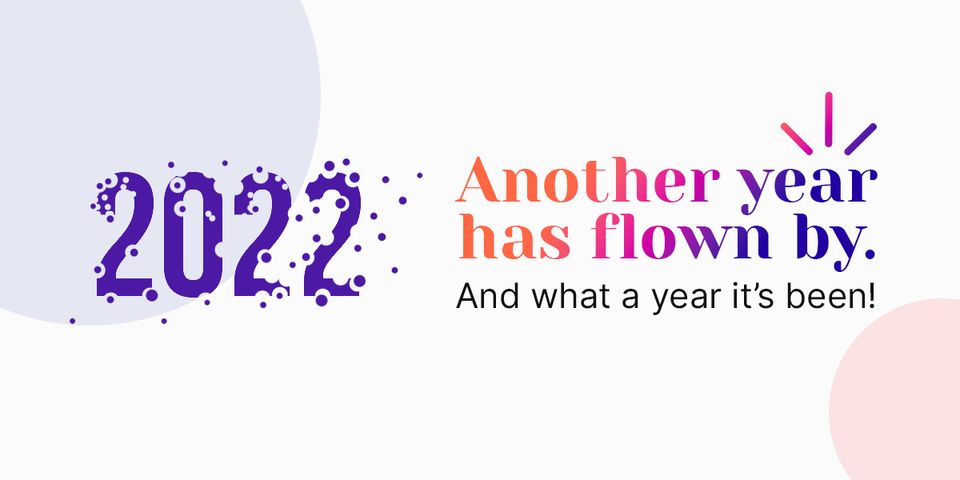 Another year has flown by. And what a year it's been!
2022 has been one of our most eventful years with a lot of challenges, growth and a whole lot of fun! Before we jump into 2023, we'd like to share some of our most memorable moments and biggest achievements from last year – with you!
Revolutionizing Event Photography with AI & Face Recognition
Undoubtedly one of our biggest tasks this year was the rolling out of our newest feature in June – AI Photo Delivery Service – an AI-powered photo distribution method that ensures that each guest at an event automatically receives their images via a secure link. With our express delivery service, attendees at the event were able to get hold of their face-matched images during the event! This new feature turned out to be a huge hit right from the get-go, helping us form a stronger presence beyond the Indian market. The response was overwhelming wherein we were soon covering over 4000 events each month!
The New and Improved AI-powered Signature Albums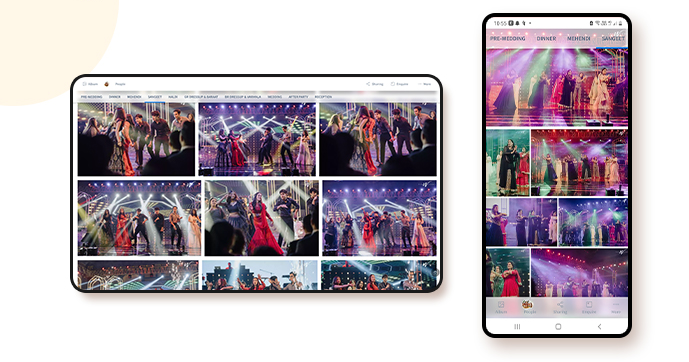 Design is a critical aspect of creating a visually aesthetic signature album. We wanted the Signature Album to be an area where you can stretch your creative muscles, so we've added a few tools to help you out.  You can now customize various elements of each project like the cover image, fonts, colours, layout and so on.
We all love clicking selfies. But this year, we've managed to make it useful as well!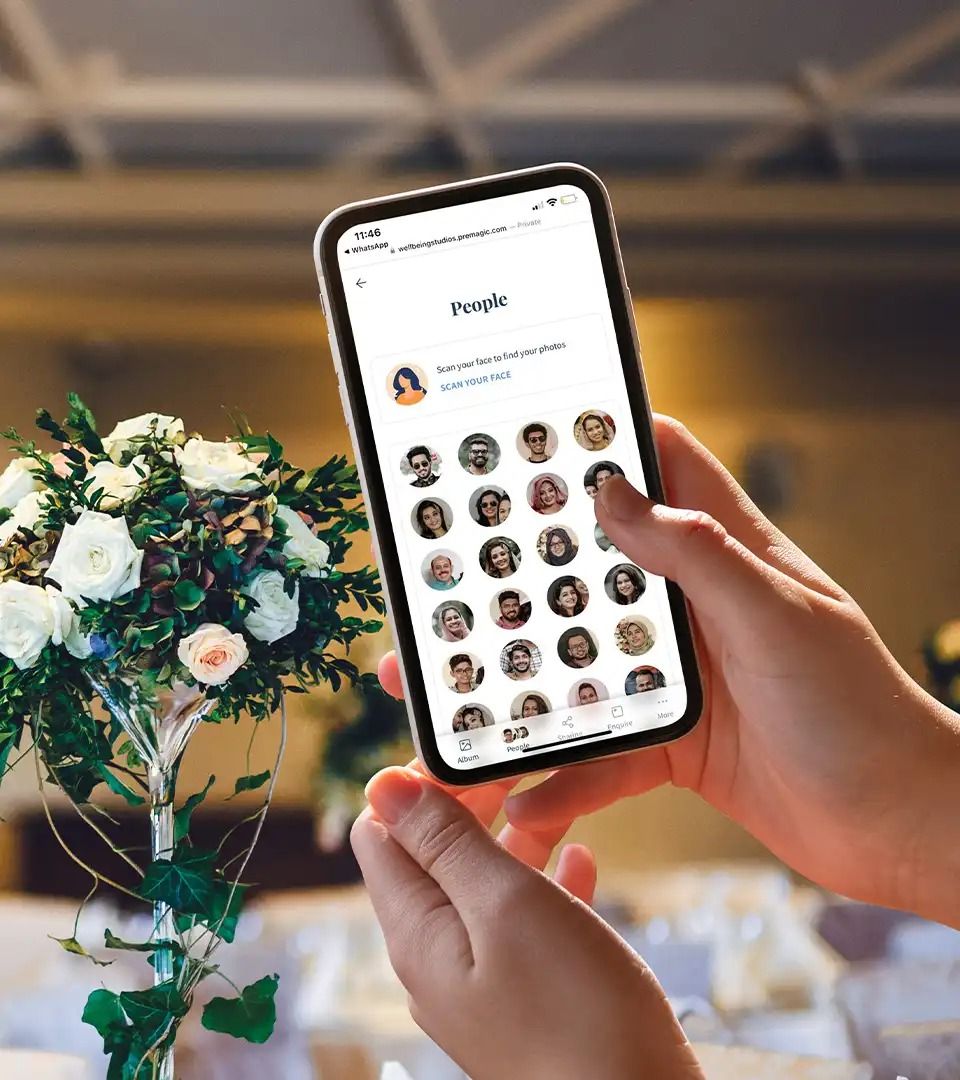 We launched the Faces Tab on the AI-based Signature Albums this year we wanted to put an end to the endless scrolling that happens when you're trying to find your own picture within an album. By leveraging face recognition technology, we built this innovative feature that scans and finds your pictures among thousands by means of a single selfie!
Security is another aspect that we have strived to improve upon this year. In that regard, we have the option to secure your albums with password protection. The 4-digital passcode can be set and shared securely with the client so as to restrict unwanted access to the album.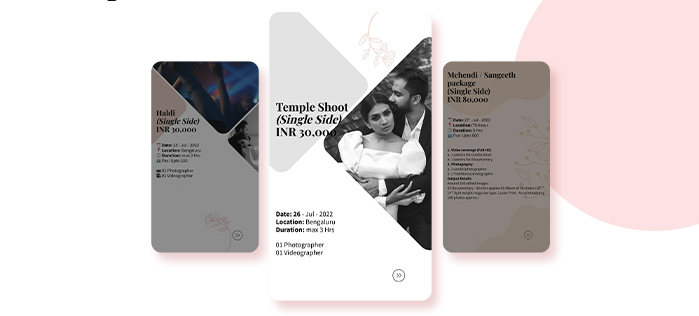 We also ventured into proposal management, helping photographers put together sleek and efficient proposals that are as simple to create as it is to upload an Insta-story.
This year, our team pulled up together and drew a plan taking into consideration the feedback and suggestions we'd been receiving.
We released a bunch of updates this year, improving platform performance and UI, as well as adding a ton of exciting new features for you to enjoy. Here are a few highlights:
 Selection Album Updates
- Mark selected photos as important
- Set a photo selection limit
- Reset 4-digit pin for album access
Signature Album Updates
- Reorder images by drag and drop
- Set Focal point on cover photos
- Change thumbnail layouts of each folder
- Mark specific images as favourite
- Block access to the gallery
- Disable photo downloads
- Bulk delete photos
- Download all the photos in one click
- Portfolio
 CRM Updates
- Create Lead capture forms easily
- Generate Invoice with tax and notes
- Payments and Expense tracker
- Get overall Financial Reports for each project
Digital Invite Updates
- Cool new Invite themes
- Add event itinerary
- Support for photos in Free basic invite
- Guests can send RSVPs via invites
- Draft album creator
On World Photography Day in August, we introduced Privilege Card Membership, an exclusive members-only card that offers exclusive discounts and offers to trusted members. An Offers tab within the app provides easy access to all of the current discounts available.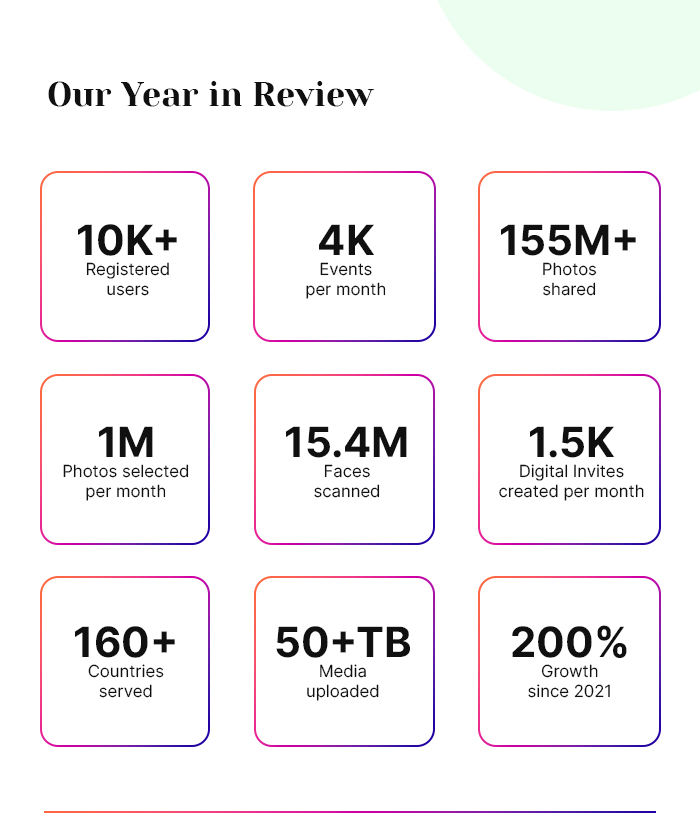 Our Growing Clientele
This has been an exciting year with regard to some amazing photographers who have joined the Premagic tribe. We couldn't be prouder to be associated with some of the best photographers and biggest names in the industry. Here are some of our favourites amongst our esteemed list of clients!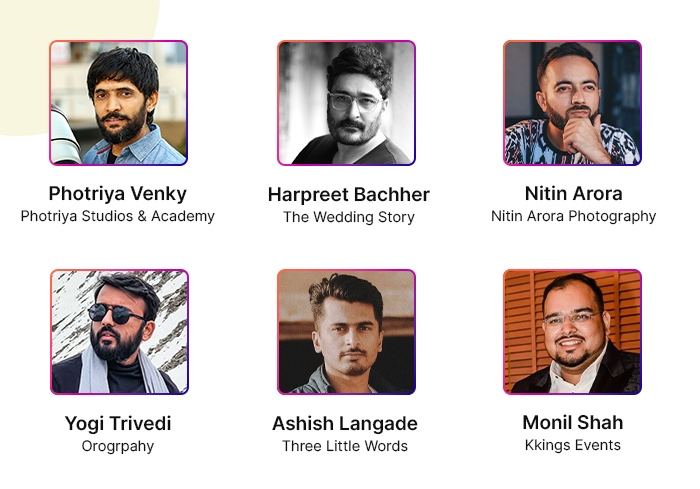 Here are some of the lovely things they've said about their experience with Premagic this year!
"I've been using Premagic for a few months now and I'm so impressed with its versatility. The price and quality they offer are unparalleled. One of the best of its kind in the market."
Photriya Venky, Founder of Photriya Studios and Academy
"Premagic has gotten the DNA of a photographer right. An exceptionally useful software that addresses even the simplest of issues faced by photographers quite efficiently. It's been designed in a very easy-to-use yet powerful manner."
Amar Ramesh, Founder of StudioA Weddings
"A complete package for every photographer. Premagic has been the one-stop solution that simplified my entire work process."
Nitin Arora, founder of Nitin Arora Photography
Our Biggest Events
It was all about glitz and glamour this year at some of the biggest events that we were a part of! From extravagant celebrity weddings to international tech shows, we made our presence felt across the globe! Here are some of our most memorable events :
Gitex Global 2022 - Dubai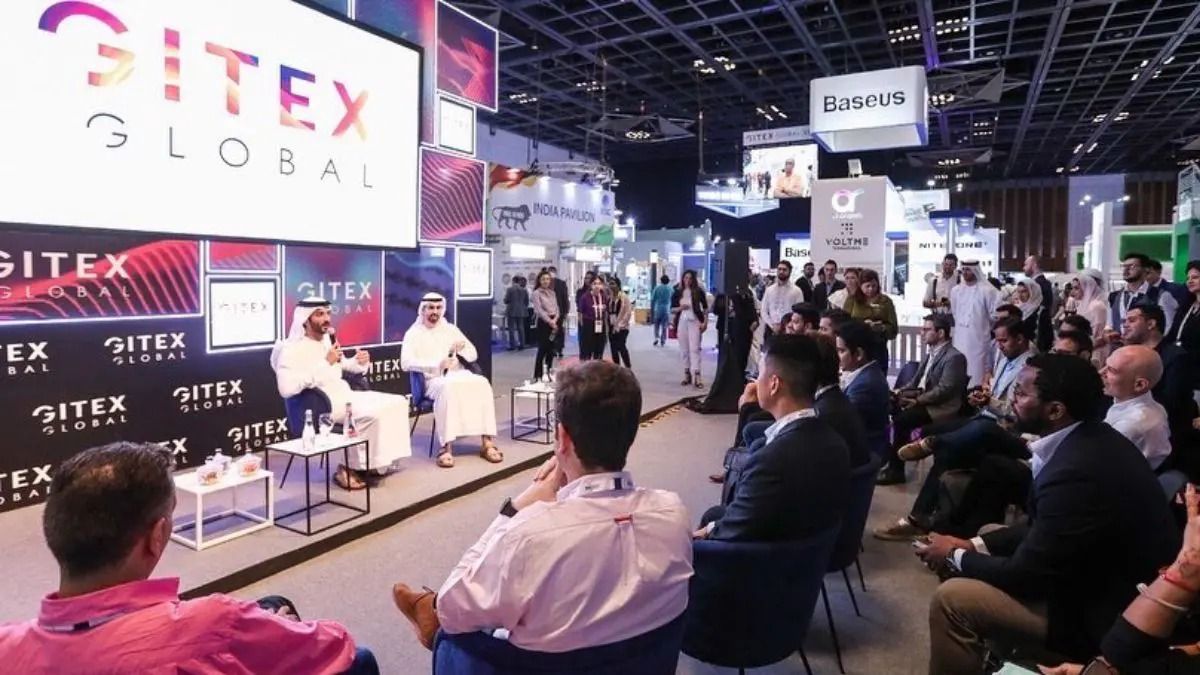 Nirmalya - Gilberto Wedding (Daughter of Entreprenuer Sohan Roy) – Dubai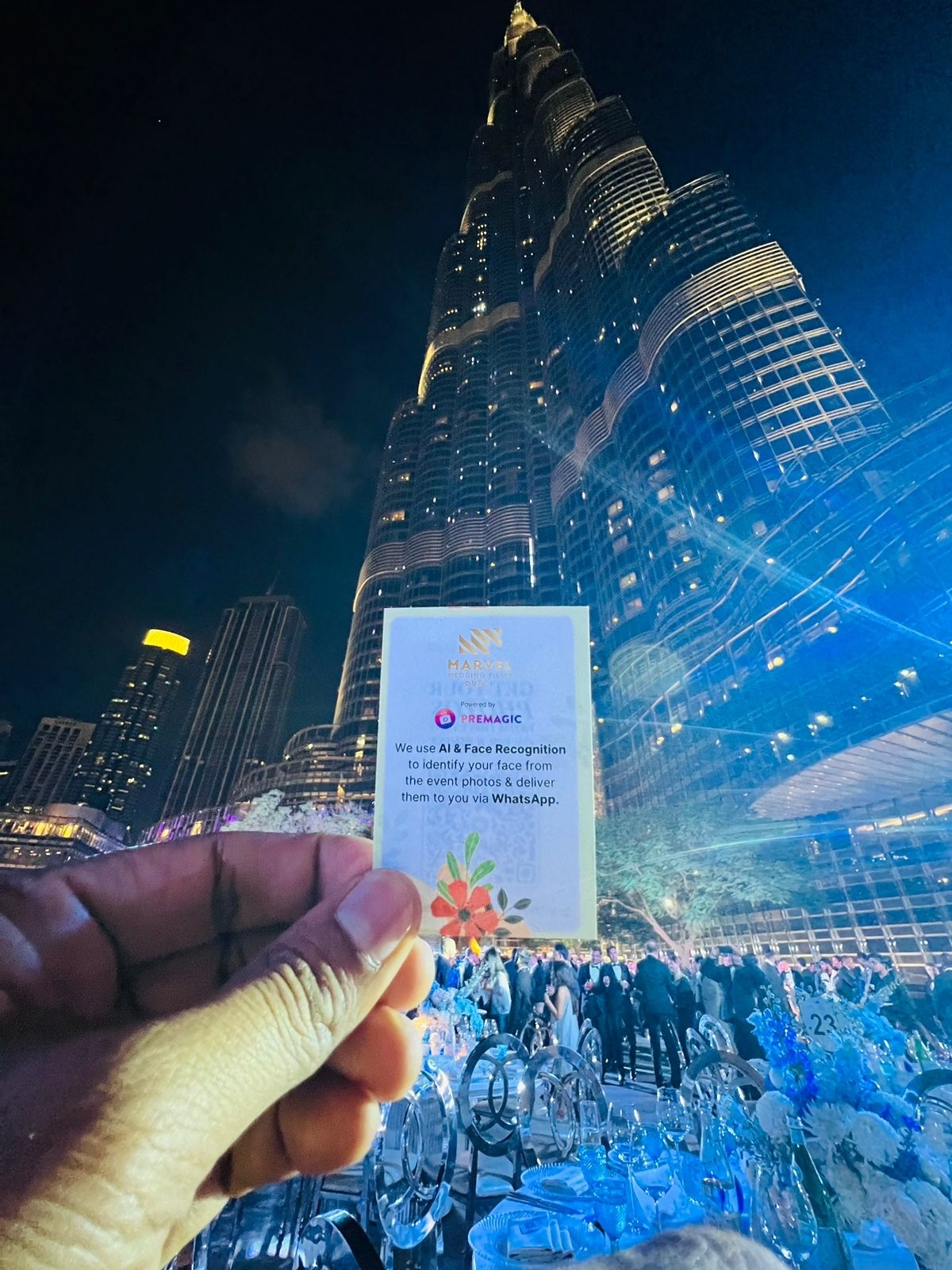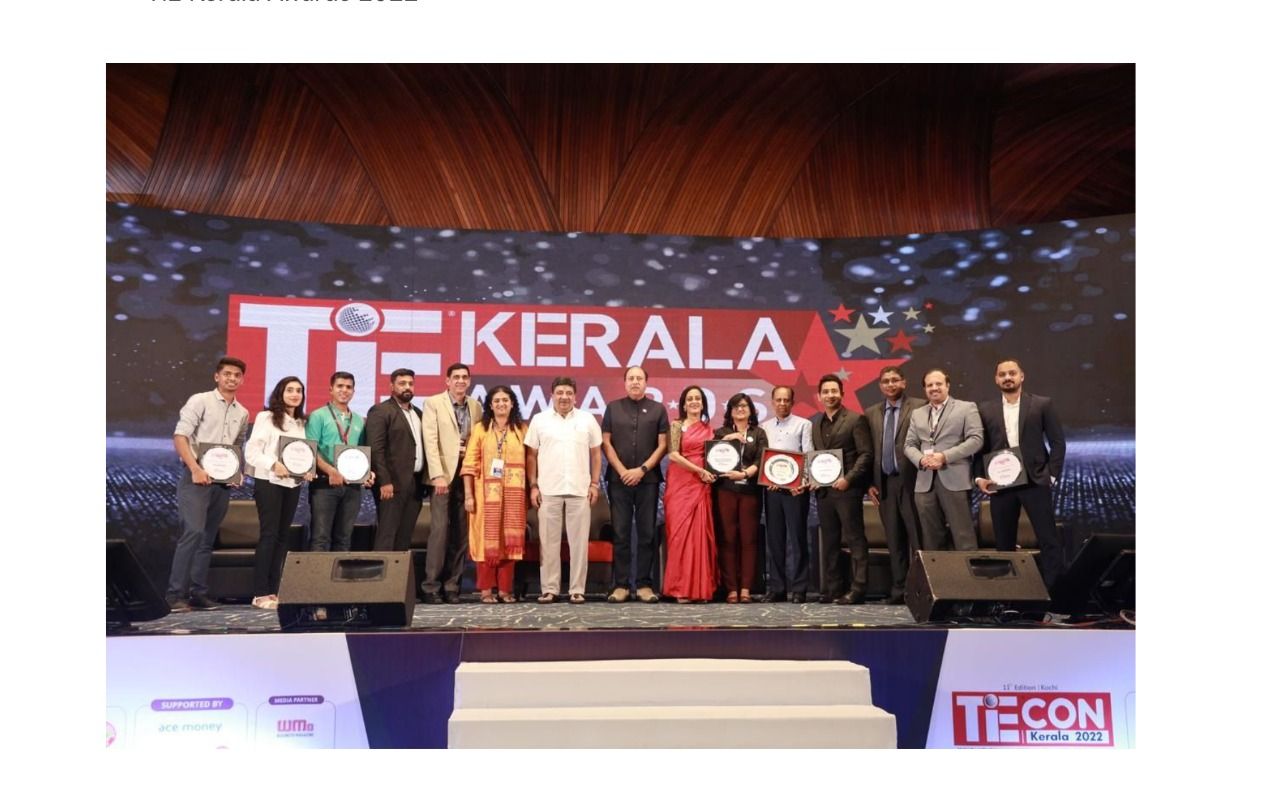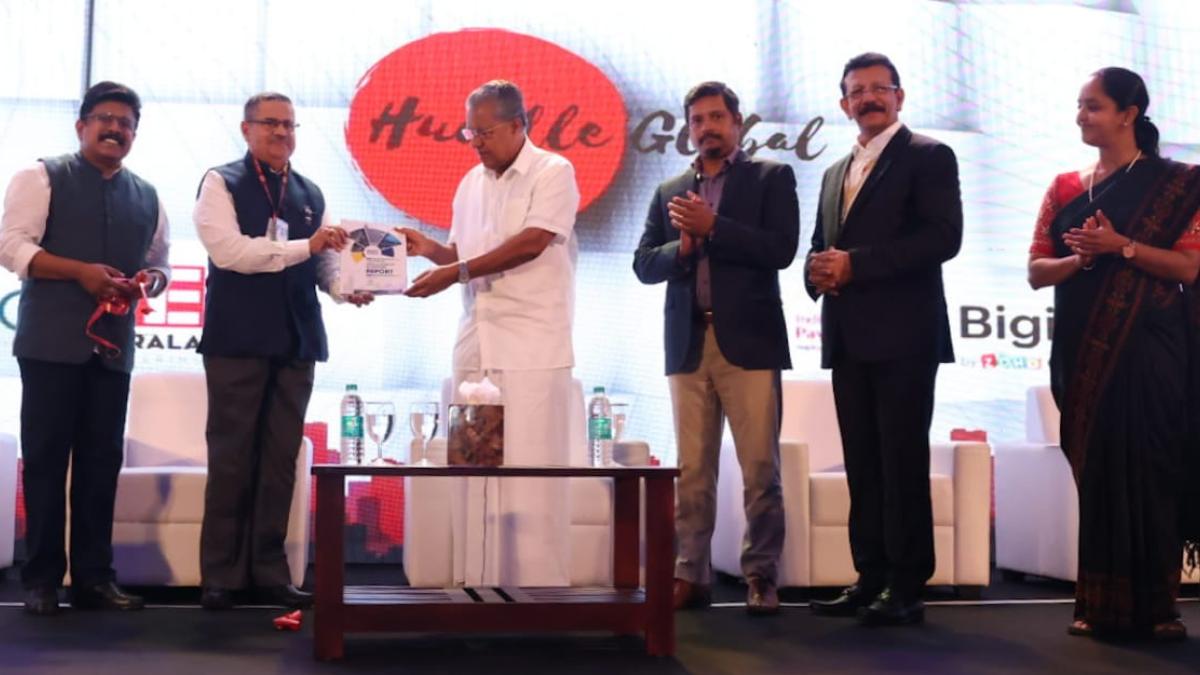 Women Startup Summit 2022 | Kerala Startup Mission
India StartUps Confluence Dubai 2022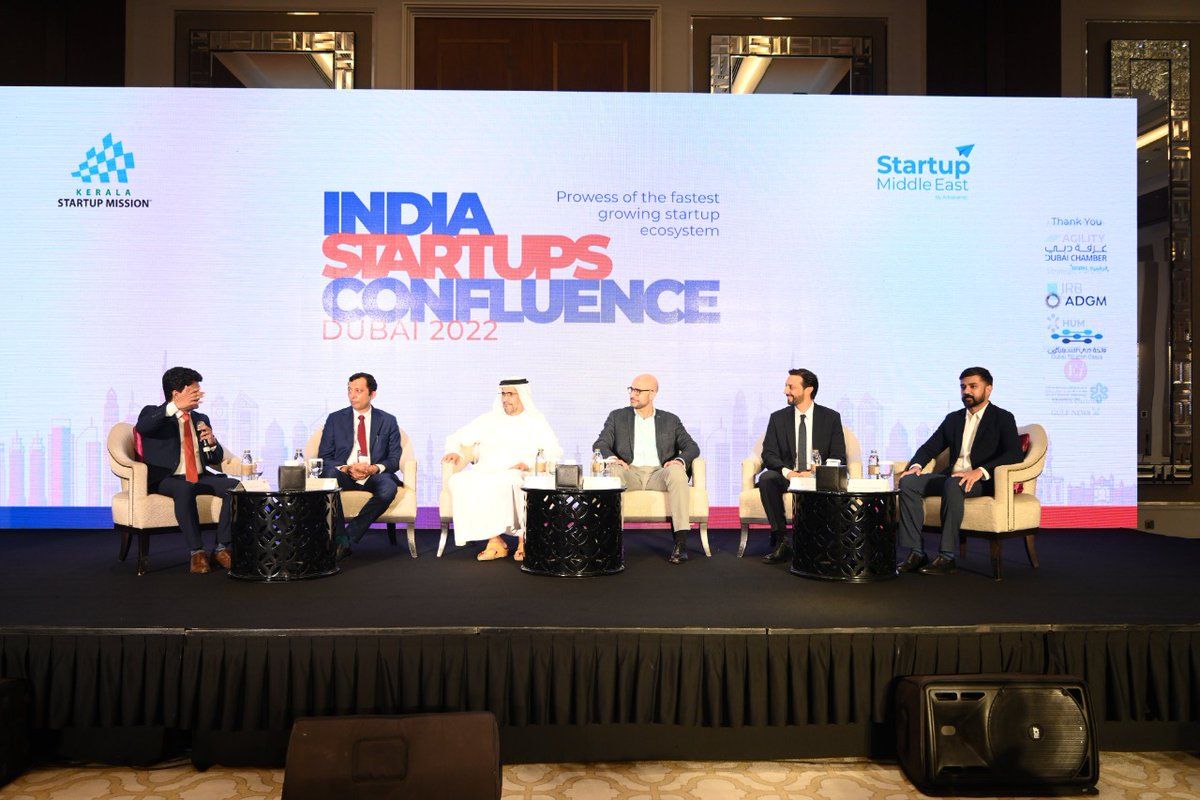 Publications, Partnerships, Awards
Winner of Innovator of the Year at TiE Awards 2022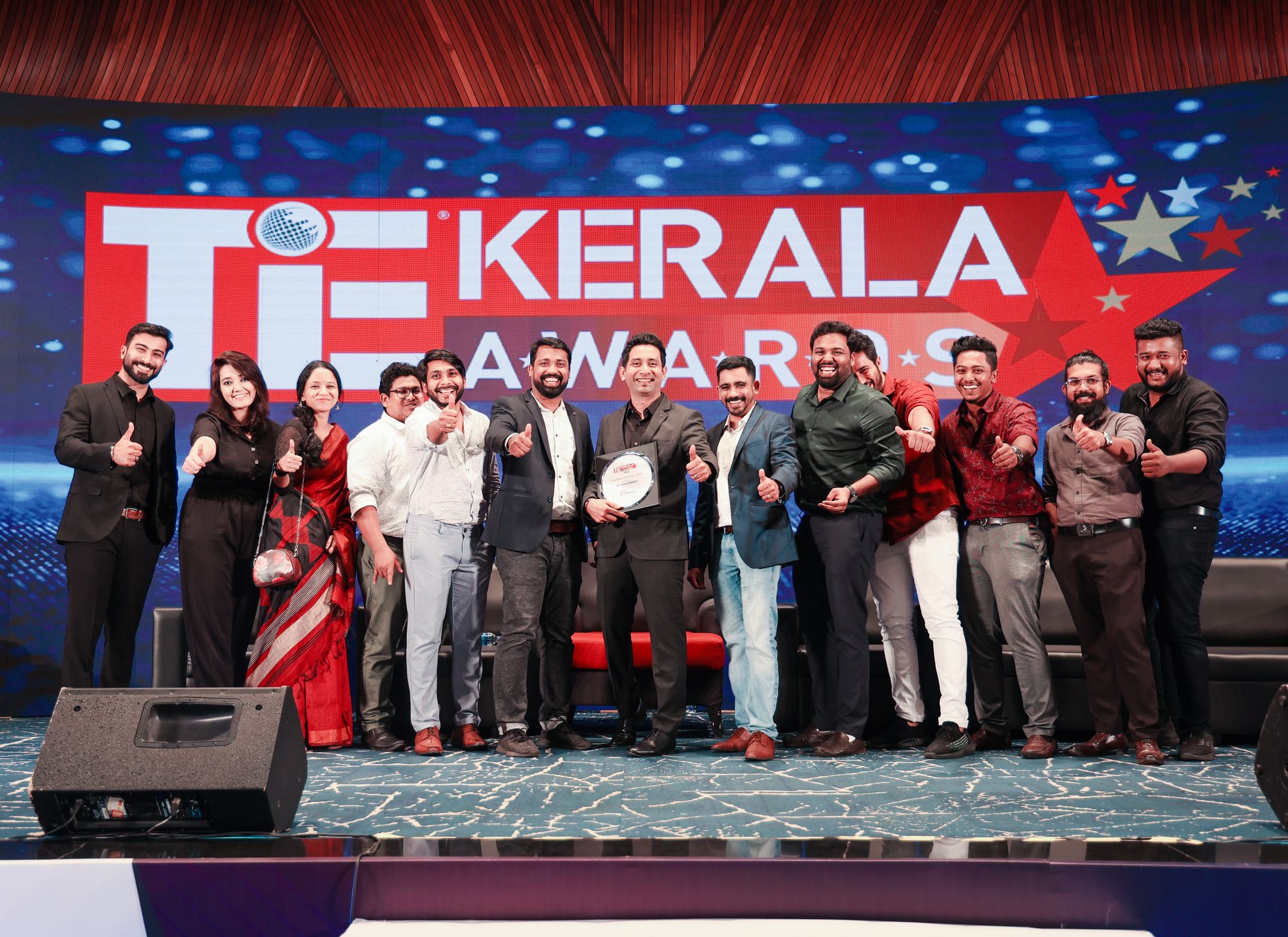 Being recognized for the long hours, the hard work, the desire, and the enthusiasm the team has put in confirms that the desire, the passion, and the personal commitment are worth the effort. It reminds us that there is value in our efforts while inspiring us all to keep improving and wanting to do better.
Featured on YourStory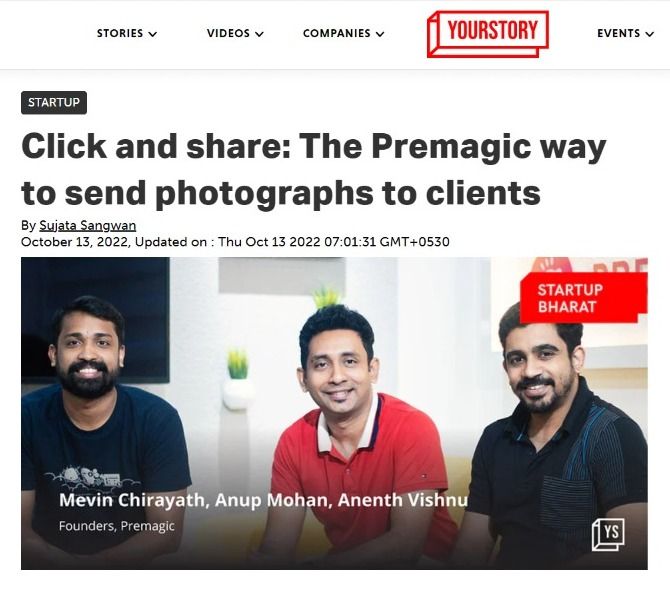 Featured on Canvera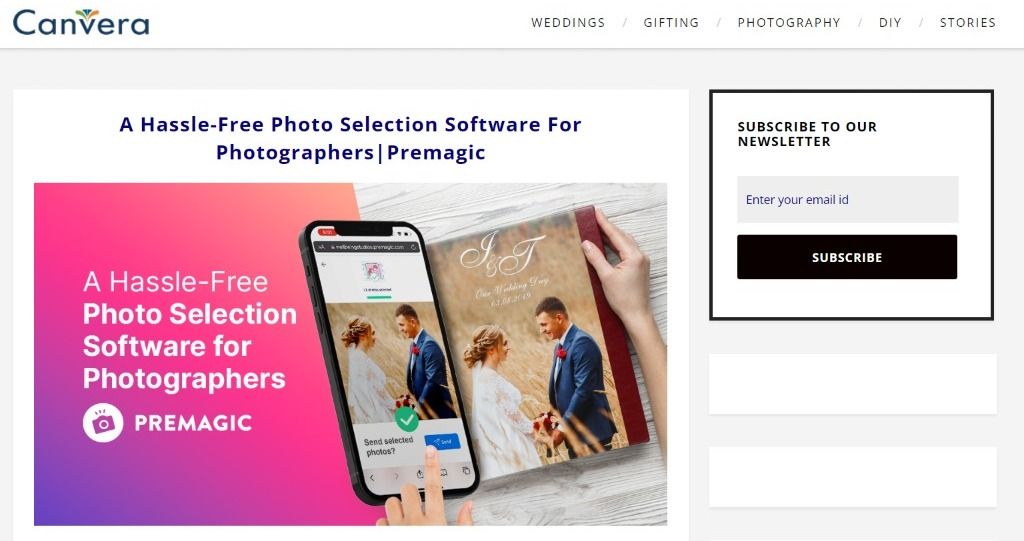 Partnered with CapturingWow's Wedding Bootcamp 2022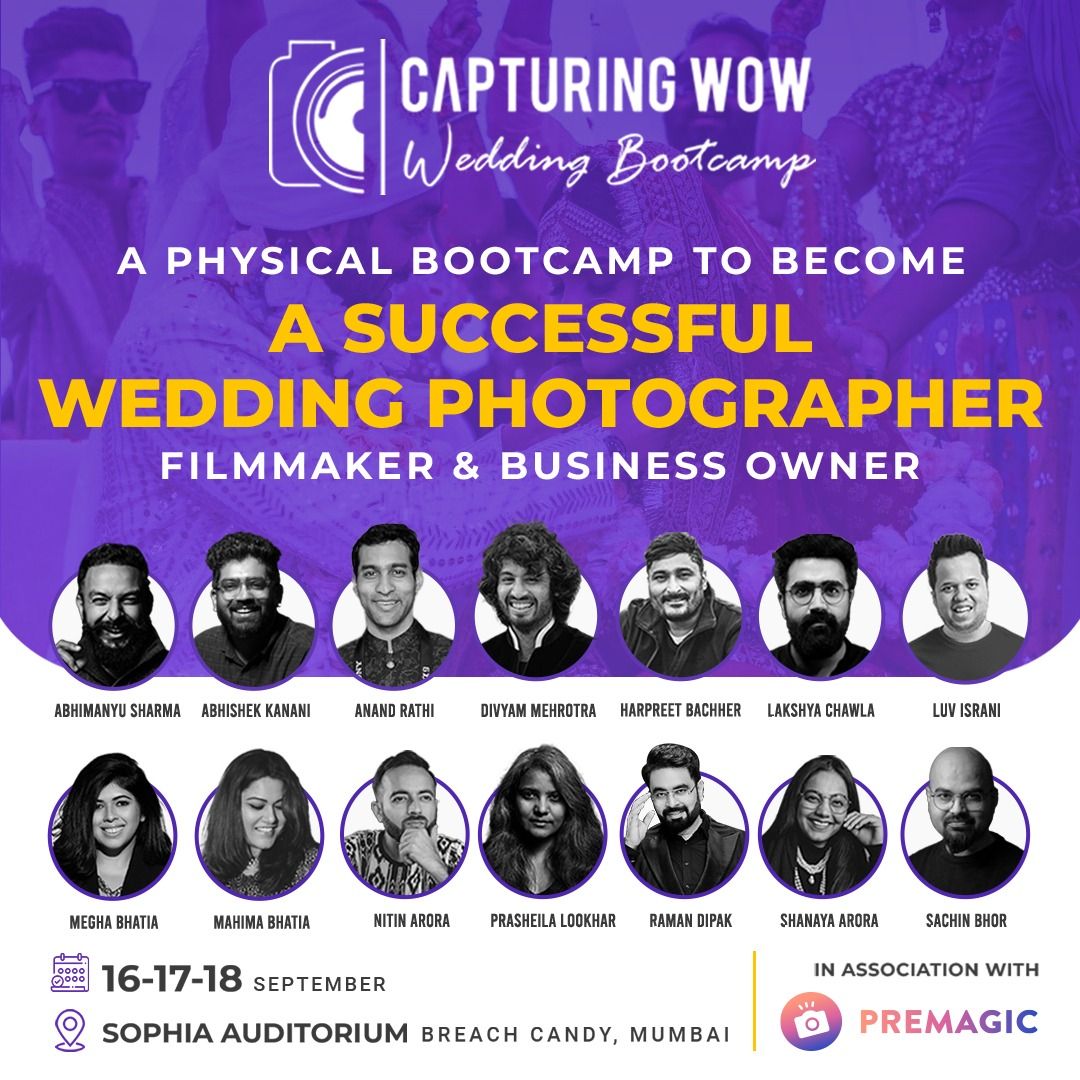 Experience Partner at Wedding Sutra Photography Award 2022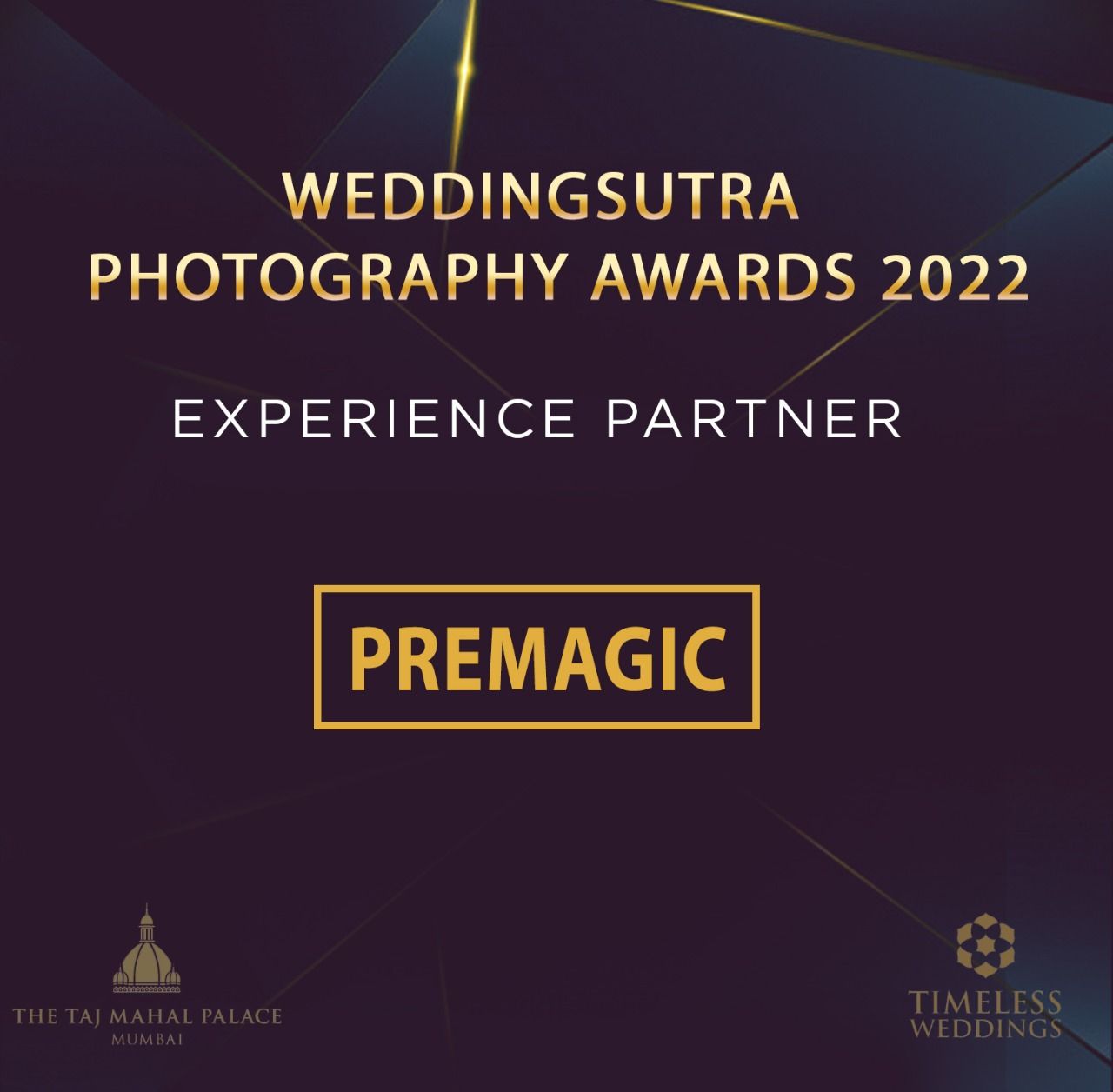 The Dream Team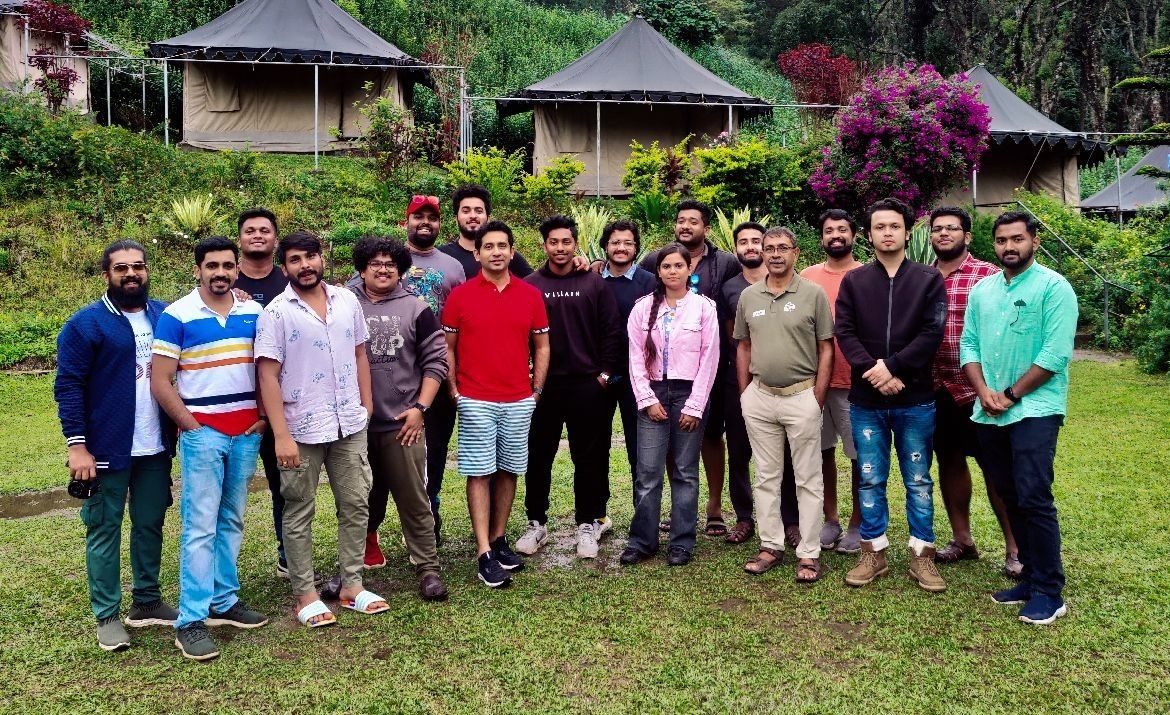 The Premagic team tripled in 2022! Our core strength has grown to 26 passionate individuals, all of whom share the company's core values. We held our Annual Meetup at Munnar this year for a few fun-filled days of team building and camaraderie.
What's coming up in 2023?
Watermark
You can soon automatically add your own distinct watermark to all your photos on the Signature and Selection album. The watermarks can be adjusted in size, opacity and position.
Workflow
With this feature, you will be able to create multiple to-do lists with each event. Each item on the list can be assigned to a team member along with a due date. You can even set priority levels and labels on each event. This new feature allows better streamlining of tasks helping you stay more organized and productive.
Both these features are expected to be rolled out by the end of the first quarter.
Thank you!
We'd like to take a moment to thank all of our clients, investors and supporters. We couldn't have achieved any of this without your ongoing support, feature requests, beta testing, and honest feedback. Your faith in us keeps us going to build and develop better solutions to serve your needs. You are the reason we do what we do.