Why is Digital Invites all the rage in modern times?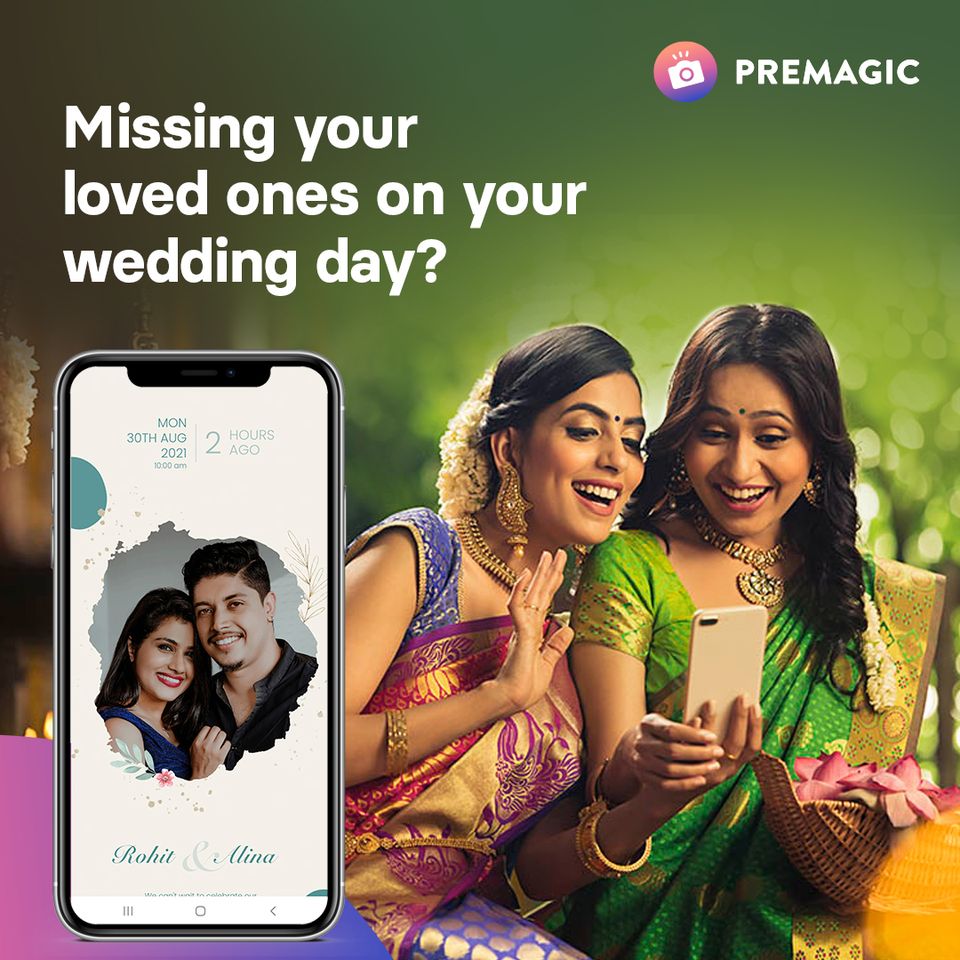 Wedding invitations are the perfect way to announce your big day and share the happy news with your loved ones. In the traditional vs digital wedding invites debate, more and more couples are opting for paperless invitations or digital invitations. Digital technology helps couples plan the wedding of their dreams quickly and easily. Going for digital wedding invites is a more eco-friendly and budget-friendly choice for couples.
If you're still wondering why you should go with digital wedding invites instead of the more traditional paper wedding cards, here are eight benefits why going digital is the right choice for you.
Eco-friendly
Digital invites are inarguably more eco-friendly as compared to traditional wedding invites. It is a very kind thing that we can do for our environment. Not only do these paperless invites save trees but also help us protect our planet Earth. Traditional wedding invitations use a lot of paper and require people to travel. This leads to fuel consumption and contributes to pollution.
Most of us end up throwing wedding cards after it has served its purpose, generating waste whereas if you opt for wedding invites, the chances of creating physical waste reduce drastically. Digital invitations are surely a wiser choice to make in today's times.
Cost-effective
Who wouldn't want to save some money while planning for the wedding? We all know how ridiculously expensive traditional wedding cards can be and along with that one has to bear the courier charges as well. It's better to not waste money on something that is ultimately going to end up in the landfill.
For a couple looking to make smarter choices, picking digital invites is the best option. Digital invitations let you express everything in a more efficient way and helps you save money while doing that. Couples can use the saved money toward some other wedding experience that guests would enjoy and remember for a longer time.
Easier designs and details
There are several impeccable designs and stunning templates available in the market for couples to pick from. With the multiple options for colour and background, couples will be spoilt for choice. Digital invites give couples a chance to get their wedding invitations in any colour combination of their choice. There is a lot of room for experimentation to showcase your creativity to the guests.
The preview option is a boon for indecisive couples and allows them to see how the card will look before making the final decision. It's easy to get any alterations done on the spot. Any last-minute updates can be accommodated without breaking the bank. Finalize the invite, only when you're satisfied with the preview.
More room for creativity
There is a lot of room for creativity when it comes to digital invites. This sort of creative freedom is often missing from traditional wedding cards. Opting for unique designs in a traditional wedding card would leave a hole in your pocket. Whereas a digital invite allows several unique features to the couples.
For example, Premagic provides stunning digital invites for couples including a countdown timer showcasing the number of days left to the wedding, a live streaming link for guests who couldn't join due to the pandemic, a link to photo albums for easy accessibility, and much more. Premagic provides digital invites in three different variants based on the couple's requirements.
Pandemic-friendly
Ever since covid has hit the world, the wedding planning industry has adopted several pandemic-friendly approaches. The use of digital invites is one such measure that helps us connect with our loved ones without breaking the social distancing protocols. With digital invites, you can invite your wedding guests without making any physical contact.
Another major perk of using digital invites is the liberty to add external links such as photo albums, live streaming links, etc. It allows your loved ones to become a part of your big day without putting their health at risk and breaking the government laid restrictions.
Hassle-free delivery
Sending traditional wedding invites takes a lot of effort. One has to collect all the mailing addresses, verifying the collected mailing addresses, manually addressing each card to the recipient, mailing invitations, and repeating the process in case a card goes missing during the transit. Online invitations effectively eliminate all these stress and headache-inducing problems.
All couples have to do is get the mailing list ready of all the guests, attach the invite, and send it across to everyone. In the blink of an eye, all your guests would be able to look at the gorgeous invite along with all the necessary details at their disposal. The way to a stress-free wedding is just a click away.
Video wedding invitations
Imagine sharing your beautiful love story with your loved ones in a cinematic video along with the pictures of yours and your spouse-to-be with a song of your choice. Doesn't that sound extremely romantic and intriguing? With a digital invite, this fairy tale wedding invitation can easily come to life. Your invitation will leave a lasting impression on your guests.
Digital invitations will not only save your time and efforts but will also leave the recipients enthralled by your creativity. What are you waiting for? Hire a videographer now to get started with your own love story.
Updating is a breeze
Imagine there is a last-minute change in plan and all your physical wedding invitations have already been sent. There is no way you'll get new ones printed and mail them to your guests. The only option left is to call each and every one of them individually and inform them about the sudden change. This might create slight chaos in your otherwise planned wedding.
Digital invites tackle such problems like a pro, by informing every guest about any changes in time or place with just one click. Even better, the updated event or invitation might even sync to guest's calendars, ensuring they don't miss out on the changes.
Explore What Digital Wedding Invitations Can Do For You
Ready to take a step towards sustainability? Browse through our digital invite plans to find the one that suits your needs and taste. If you're still on the fence, feel free to explore Premagic's demo designs and templates.  We understand how stressful weddings can be for a couple, and ensure to bring this service to you in a completely stress-free manner.
Whether you want to reduce your carbon footprints or minimize stress, using online invitations is the way to go. Thanks to this new and revolutionary trend, planning a wedding is more enjoyable and effortless.