5 Awesome Features that make Premagic Digital Invites a Must-Have for your Next Event!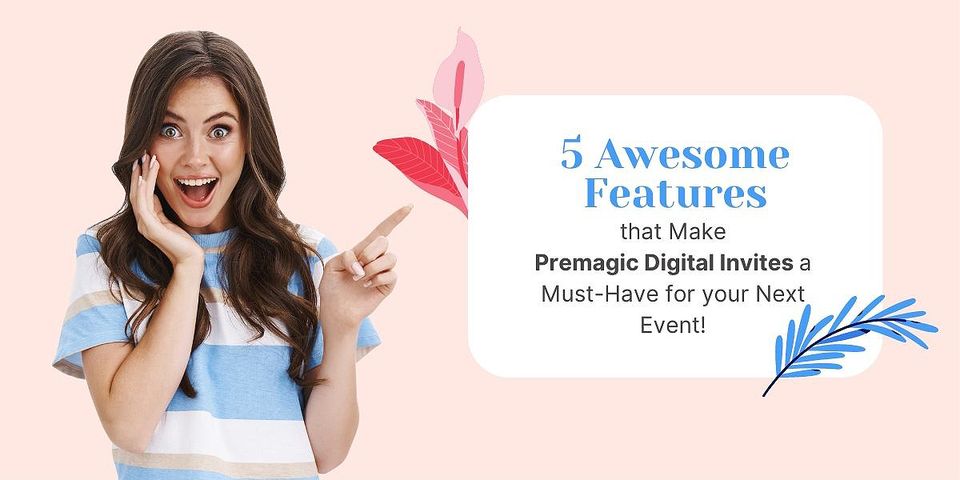 Digital invitations are a great way to go when your average customer becomes more tech-savvy and spends more of their time online. A customized digital invitation will showcase event highlights and build on the event 'experience' even before it takes place. It can also be useful in streamlining the registration process and creating a one-stop shop for all itinerary details.
Not only are they more environmentally friendly, but most digital invites also offer a variety of in-built features that is instrumental in organizing an event effectively. Here are some of the helpful features that make Premagic the best option to invite your attendees.
Multiple Event Itinerary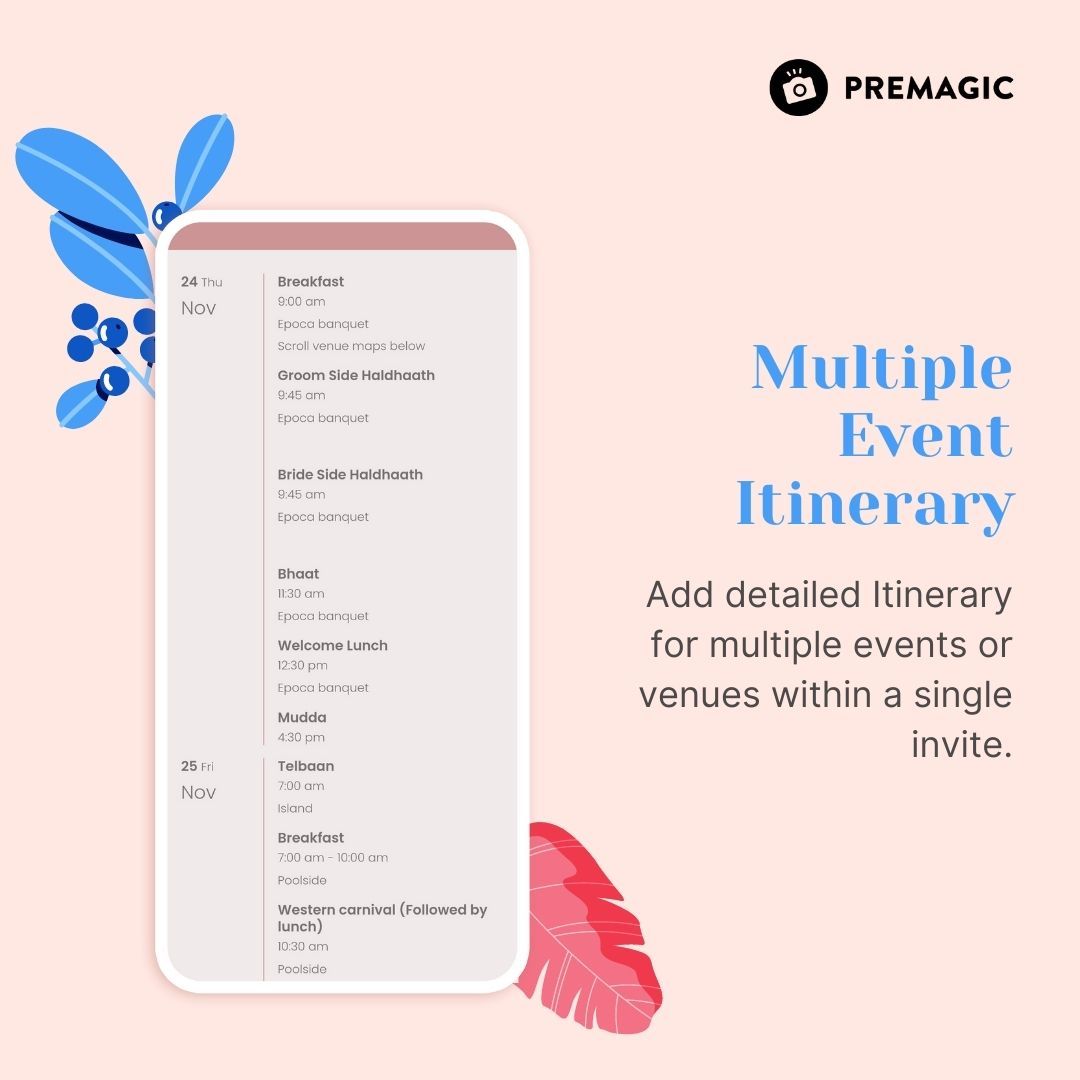 Add detailed Itinerary for multiple events or venues within a single invite. Whether it is a multi-day event or a smaller event, sharing itinerary details with your guests can help them make the most of any speakers, activities, or entertainment you intend to include. Displaying the details of your upcoming event on your digital invite can help generate buzz surrounding your event while piquing the attendees' interest.
Streamlined RSVP Experience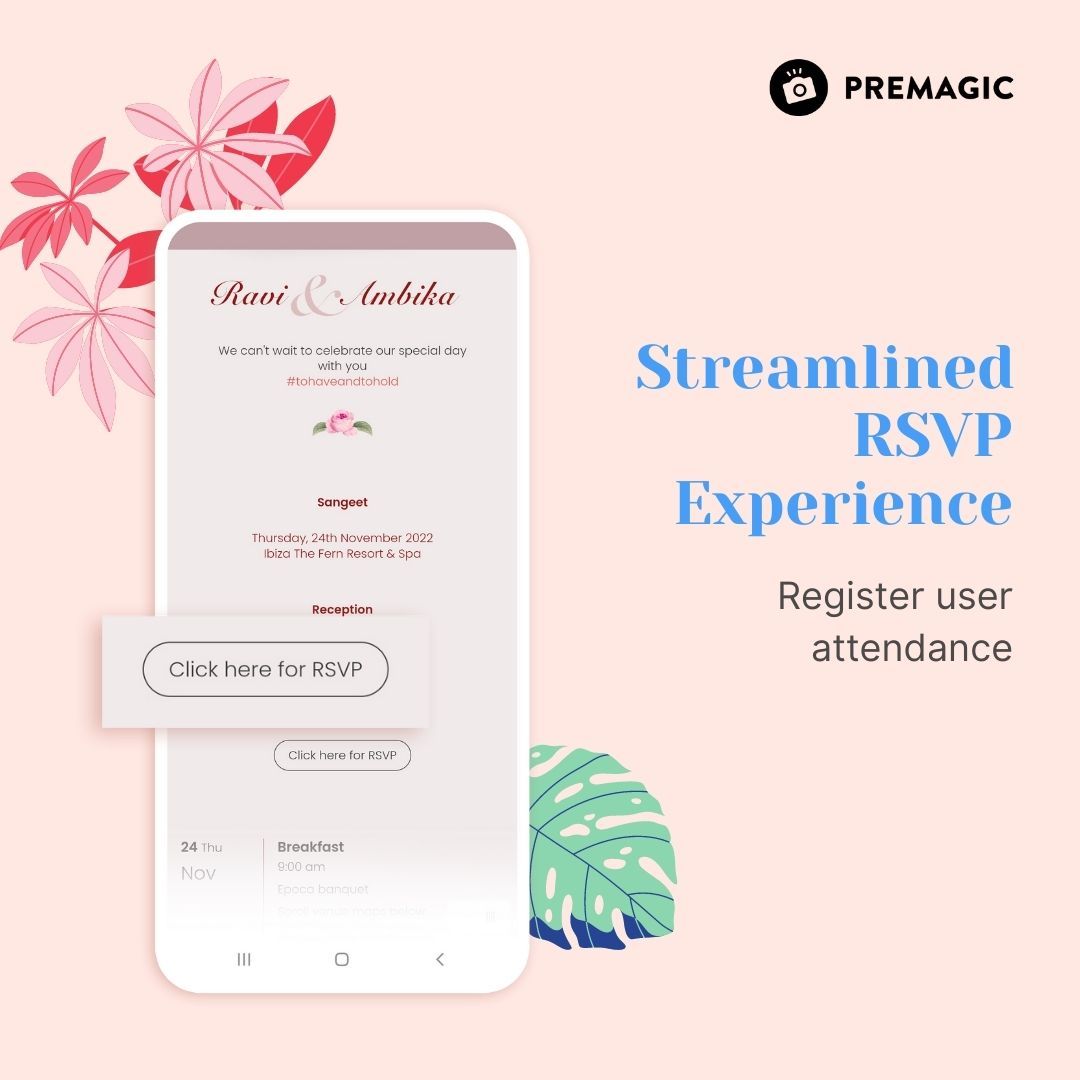 Register user attendance with an easy RSVP form. Take the guesswork out of event planning and guest list management with a simple RSVP form. Users can register for your event while also opting to receive their photographs from the event via Premagic AI-based Image Delivery service- an innovative feature that delivers photographs of the attendees to their Whatsapp instantly.
Google Map location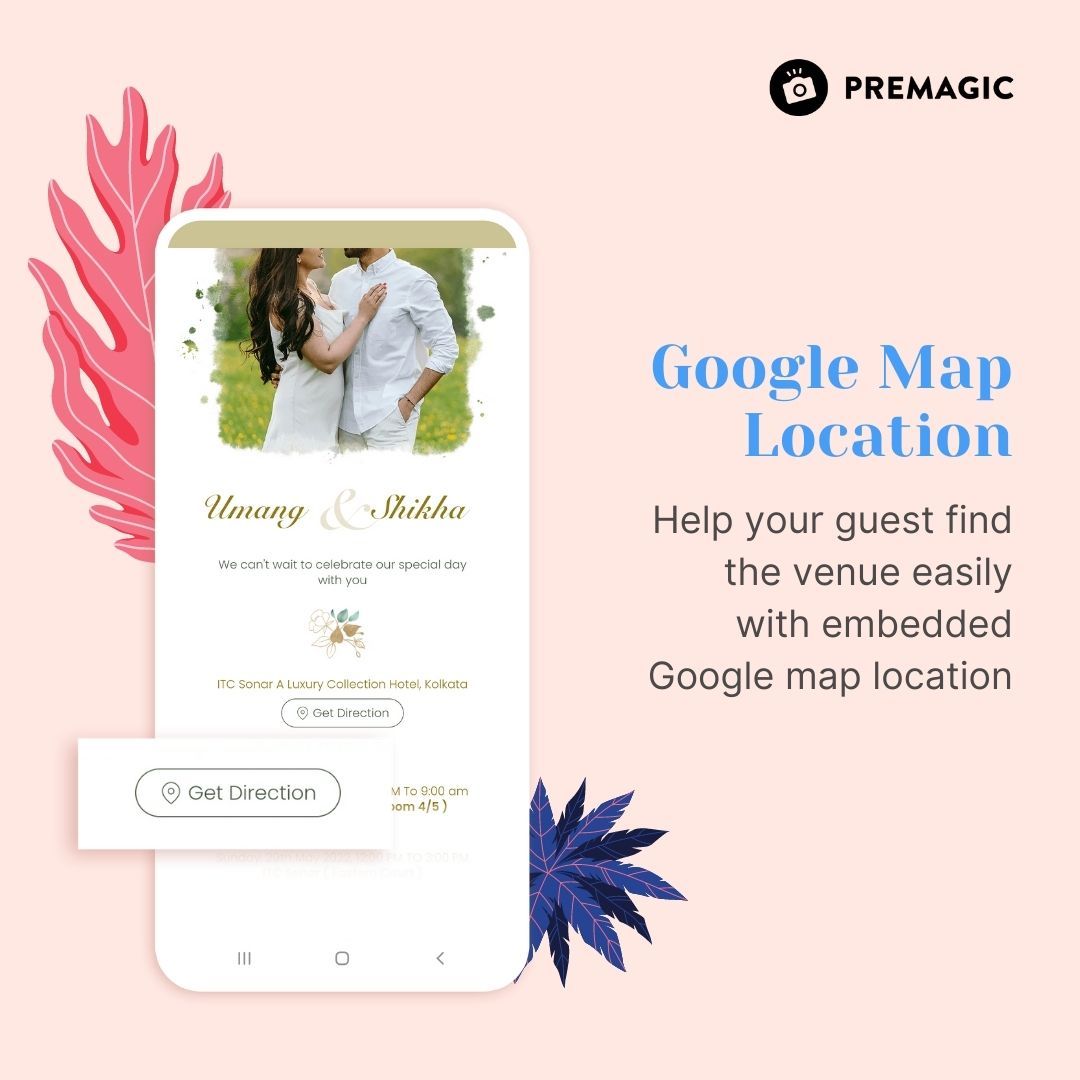 A map is a great piece of extra info to include in your invites for any attendees coming in from out of town. Help your guest find the venue easily with embedded Google map location
Live Stream Integration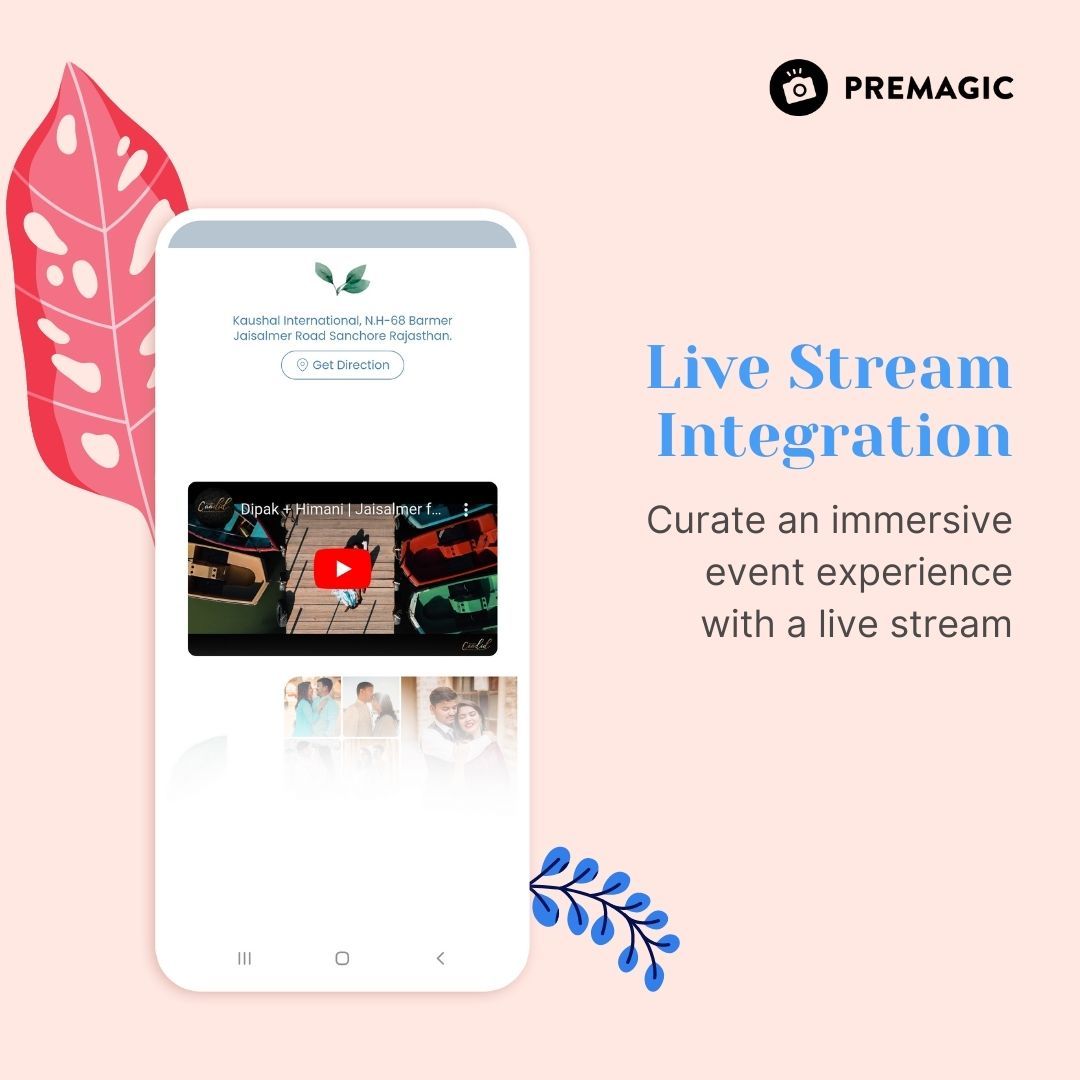 Curate an immersive event experience with a live stream. Live-streaming events are a fantastic way of connecting with your audience worldwide, increasing brand awareness and creating a sense of community.
Rich Media Uploads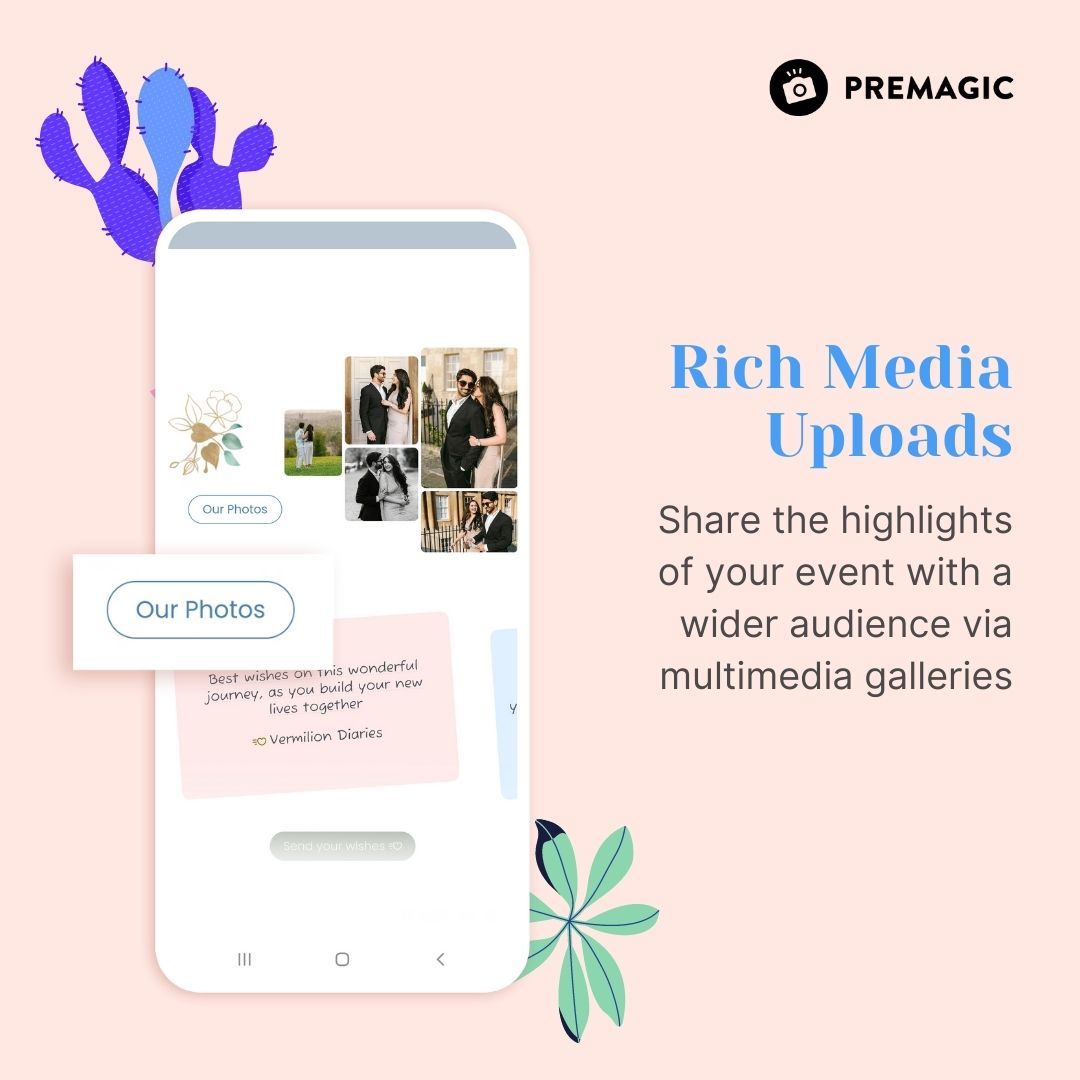 Share the highlights of your event with a wider audience via multimedia galleries. Photos are amazing assets for events to build more visibility for your business through online photo sharing. Once the event is over, photos and videos can be uploaded to an online gallery within the digital invite. You can also add sponsor-related photos and videos to your galleries to expand brand visibility.
Virtual Wishes Board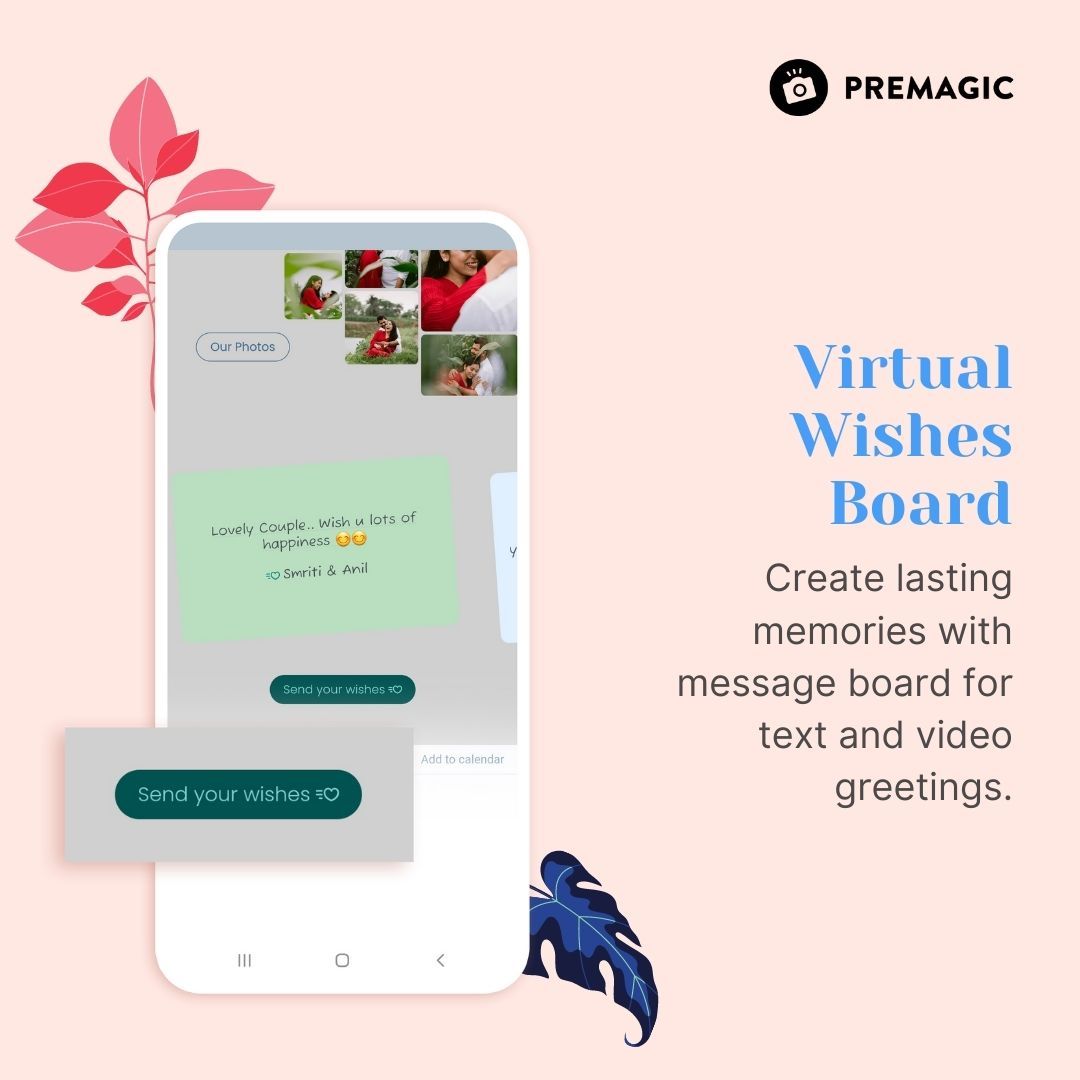 Boost user engagement and gather insights with wishes boards. Your attendees are the most valuable source of feedback that you will ever have. The virtual wishes board provides a simple platform for attendees to submit their messages or feedback in text or video format within the invitation.
Other Valuable Features
·        Sleek and modern templates to choose from
·        Custom Domain
·        Background Music
·        Easily shareable
·        Maintain brand identity
·        Increased visibility
·        Secure and customizable
Set the agenda for your events with Premagic Digital Invites. Get in touch with us today to know more.