Premagic Online Photo Albums - Share your photos with clients easily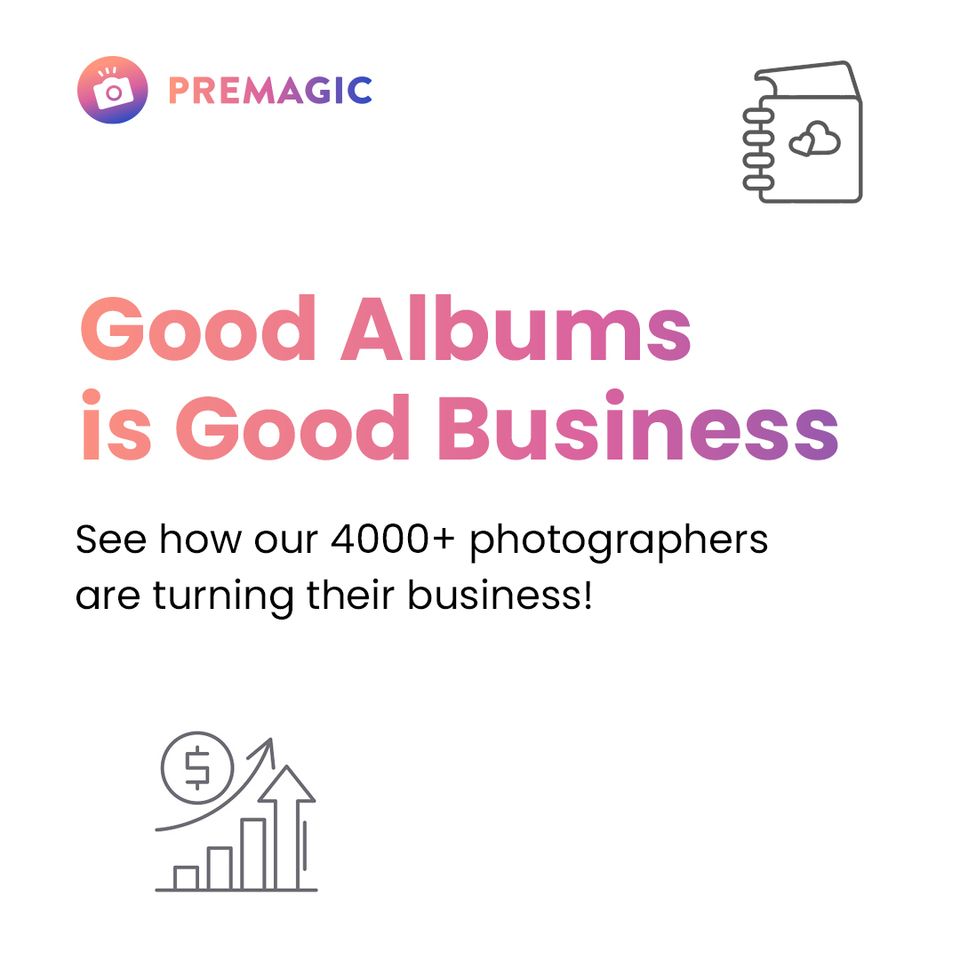 Are you a professional photographer?
Do you care how your clients react to the pictures you clicked? (Who wouldn't, right?)
After hours of work, you've captured, sorted, and edited the perfect set of photos with all the emotion of someone's special day and your images deserve to be delivered in a way that does them justice.
However, when it comes to wedding photography there is nothing more frustrating than sharing over a thousand photos with clients and getting them to pick their favourites from them. The whole process is harder if you're using a pen drive or hard drive to share the wedding pictures with your client.
So, what if all of that process was accelerated and you were able to serve more clients and make more business?
With Premagic, there's no need for your clients to copy filenames or jump between windows to select their favourite wedding pictures or to give you their feedback.
In addition to accelerating the wedding photo sorting process with Premagic, wedding photographers can now create personalized and branded online wedding photo albums, giving them the chance to impress their clients better and gain more leads.
Turn your photos into a successful business.
Designed for professional photographers, Premagic is cloud-based album management and approval workflow solution that streamlines the delivery of professional photographs and online wedding photo albums.
In other words, Premagic helps you build a successful wedding photography business.
Here's why and how you should start using Premagic today.
Get your photographs approved faster and easier
Online Photo Selection - Fast & Effortless!  
Photo selection is, without a doubt, the most onerous and tedious aspect of the entire album production process. At least it can be. Premagic helps solve this by allowing digital selection of photos for your clients without leaving the application or copying filenames.
How it works: Photographers can just drag and drop the event pictures to build a custom gallery created under the client's name, including all the photos captured in it. The online photo gallery created can be forwarded to your clients using a link via mail or other online platforms like WhatsApp. Your clients can select their favourite images from the photo gallery, which will be forwarded back to you for final editing and album design.
Our platform gives you and your clients the ability to interact and select images easier, taking your photography business to the next level. Our aim is to simplify your workflow and get you more business.
A better way to proof albums
Online Photo Album - Redefined!
Photography businesses are no longer just about quality images. The saturated market has made it difficult for you to distinguish yourself on the basis of your work alone. You need to be able to produce an amazing workflow process as well to get your results to your client.
Consistency in presentation and personal branding is essential as a photographer. Premagic makes it possible to create personalized and branded online photo albums completed with beautiful cover designs and layouts that will mark your creative identity and will set you apart. Additionally, each photo album can be personalized including branding, colour schemes, and typography. Additionally, it allows clients to communicate revision requests and approve design changes in an easy and efficient way.
How it works: Premagic helps you create beautiful online wedding albums faster, easier and better. Select your images and drag and drop them to instantly create your clients' wedding album. Easily share your album draft with your client to receive feedback and make revisions hassle-free. This way, the client can communicate their changes accurately with you, so you won't waste time sorting them out. You'll be pleased to see how simple the interface is, allowing effortless wedding photography delivery.
Grow your business by joining the social era
WhatsApp Sharing & Lead Generation
Being a successful photographer can be frustratingly demanding, especially with the repetitive, dreary, and extremely time-consuming wedding photography industry. Most wedding photographers find themselves spending a lot more time sitting behind their computer screens and less time out with the camera. Premagic is our answer to the problems faced by many professional photographers.
How it works: When you share an album, it's shared under your brand, so potential clients know who you are. Premagic generates high-quality references for your business, which means, you reach your potential clients even before your competitors do. We also make it easy for your clients to share photo albums with their friends and family on various social media platforms including WhatsApp, Instagram, and Facebook. Sharing the images using traditional methods like Google Drive, WeTransfer or printed albums may limit your marketing opportunities. Premagic not only helps you to get more leads by sharing event albums online, but we also make it easier to manage those leads in a timely manner.
Premagic is an innovative, efficient and easy way to share your clients' pictures with them. Whether you are a wedding photographer, a fashion photographer, a landscape photographer, or a regular studio dweller, you can benefit from this online photography tool. You'll save time, too!